Doctor. Researcher. Author. Stanford alumni. Polyglot. Animal lover. There are many words you can use to describe Marcia Rupnow. You could also point to the many accolades and achievements she's garnered. But she is sometimes reluctant to share them.
"In the Japanese culture, humility stands at the center of our beliefs," said Rupnow, Vice President, GSK Real World Data, Modelling and Analytics. "Even though I was born and raised in Brazil, I only spoke Japanese to my mother. She never learned Portuguese. My doctors were Japanese. We shopped at a Japanese grocery store. We carved out a whole world that reflected our homeland."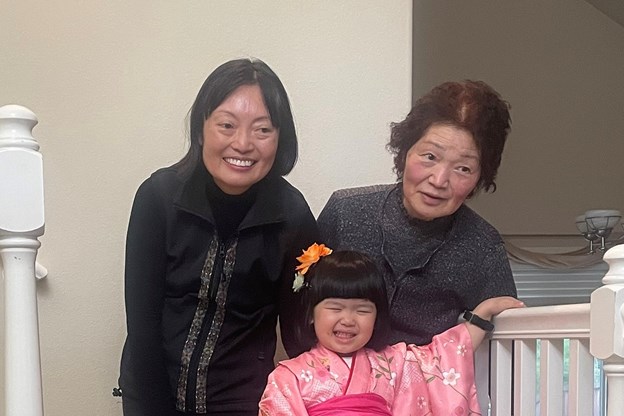 Rupnow not only speaks Japanese and Portuguese, she is fluent in English and also speaks basic Spanish. Her love of engineering, robotics and automation, coupled with economics, would take her to Stanford where she earned her masters and doctorate. At GSK, she's risen to Vice President of Real World Data, Modelling and Analytics.
"I am blessed to have the opportunity to work with passionate individuals who are experts in real world data, epidemiology and burden of illness studies, cost effectiveness assessment and novel digital endpoints," describes Rupnow. "That sounds complicated but it's basically helping provide evidence of the effectiveness, safety and value of new medicines, with the focus on the right patient getting access to the right medicine."
She's navigated the world while balancing the culture of her heritage and homeland.
It's true for everyone that our background shapes us, It's about who I am and what core values are authentic to me. For me, humility really centered me as a leader and it became very apparent during the pandemic.
The values instilled in Rupnow early on surfaced as strengths when she was called upon to oversee the Upper Providence GSK site - where more than 4,000 staff members have access - as COVID shut down locations.
"All of a sudden I was in the middle of a serious situation. I was involved in major decisions about the safety of our staff while continuing operations for our patients," Rupnow remembers. "I surrounded myself with people who are a lot more knowledgeable than I am. Because they are the best at what they do, in many situations I simply needed to enable them to perform by staying out of their way."
Rupnow quickly implemented a structure designating leaders and trusting those familiar with the issues to generate solutions. She created communication forums and established a cadence of meetings to share best practices and brainstorm sessions. At every turn, she expressed gratitude and appreciation.
"At times we were scrambling to adhere to new mandates coming from the government," Rupnow said. "This is where this well-oiled machine really performed. By building the correct framework, it allowed us to move forward with agility and flexibility."
Eventually Rupnow handed over the reins and was able to reflect on the experience.
"I am so proud of the staff who stepped up in the middle of a scenario fraught with questions and unknown factors," she said. "We delivered business continuity while keeping our staff and patients at the top of the priority list."
These days Rupnow maintains focus on analyzing real-world data and how to apply it to drug development. But she continues to feel the pull to get even closer to her ancestral roots. That type of connection gives one a sense of identity, tradition and history. It's a touchpoint that is never far away no matter where you live.