To further our commitment to increase the number of diverse Philadelphia students entering STEM careers by 2030, GSK supports at least $1 million in grant funds each year to nonprofit organizations working to address inequity in STEM education and career pathways. Grant opportunities are by invitation. 
In 2021, we are proud to have supported the following programs with GSK STEM Equity Grants:
EducationWorks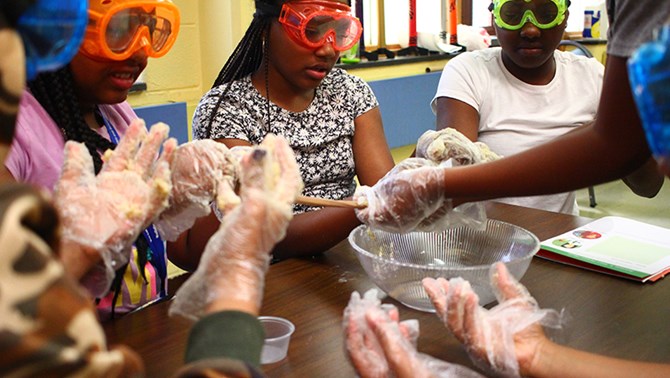 Full STEAM Ahead Program
The Full STEAM Ahead out-of-school time curriculum emphasizes inquiry-based programming in elementary school, career exposure and skill building in middle school, along with workforce development and career pathways in high school focused on Black and Latinx youth in Philadelphia's historically disenfranchised communities. This project-based learning model helps youth envision and advance their pathways towards professional STEAM careers. Programming emphasizes a 'Citizen Scientist' theme focused on environmental science and urban agriculture.
Back to top
Energy Coordinating Agency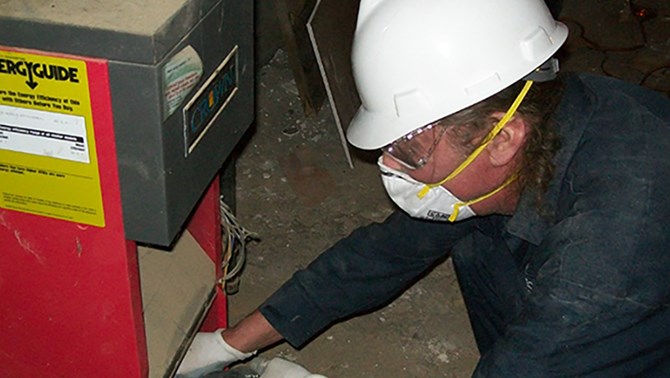 Youth Pathway to Green Renovation and Retrofit Program
Green Renovation and Retrofit training will be provided for 10 Black and Latinx out-of-school young men and women ages 18-24. ECA developed methods and materials to assist those who need a stronger academic background in reading, math or science. Participants learn what they need for entry-level jobs in deconstruction and demolition, green residential construction and weatherization installs. Those who successfully complete the program receive national credentials and qualify for the Pre-Apprenticeship program under ECA's Federally Registered Apprenticeship Program for Retrofit Installer Technician.
Back to top
Nueva Esperanza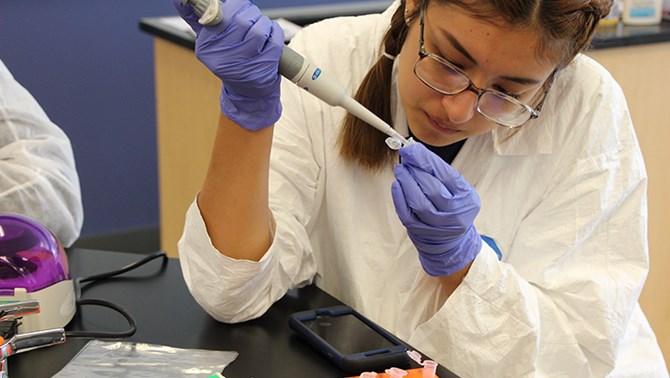 STEM Hope Pathways Program
Esperanza and Esperanza College provide Latinx and minority 11th and 12th grade youth in Philadelphia with access to enriching STEM experiences centered around research so they can envision themselves working in STEM fields. The summer camp teaches students basic scientific research skills, explains the role of a scientist and builds the confidence needed for students to succeed in STEM. In addition, students will take steps towards STEM careers by enrolling in college-level courses in the health sciences during high school. This program creates a pipeline of youth who are activated, equipped and engaged to enter STEM fields.
Back to top
Opportunities Industrialization Centers of America, Inc.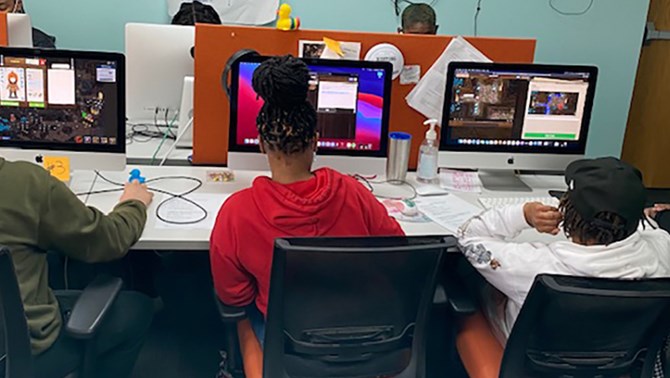 Career & Academic Development Institute's Cadi2Code Program
The Cadi2Code program delivers the preparation, support, representation and incentives needed to support more young women of color interested in STEM and coding. OICA believes STEM training, if utilized correctly, can bypass many inherent biases present in other career fields and provide participants with a true, sustainable living wage. Coding was chosen because it is a field with ever increasing job opportunities, can be learned without a college education and requires skills that many young adults are able to grasp and learn.
Back to top
Philadelphia Education Fund
Explore STEM Philly Program
Explore STEM Philly (ESP) is a career exploration program for 1,200 9th and 10th grade students in five Philadelphia high schools. ESP cultivates a deeper understanding of the pathways to becoming future STEM professionals and is focused on Black and Latinx students. The program delivers classroom presentations by diverse STEM professionals, hosts a STEM exploration conference including career fair, arranges virtual STEM worksite visits and provides professional development for classroom teachers.
Back to top
The Academy of Natural Sciences of Philadelphia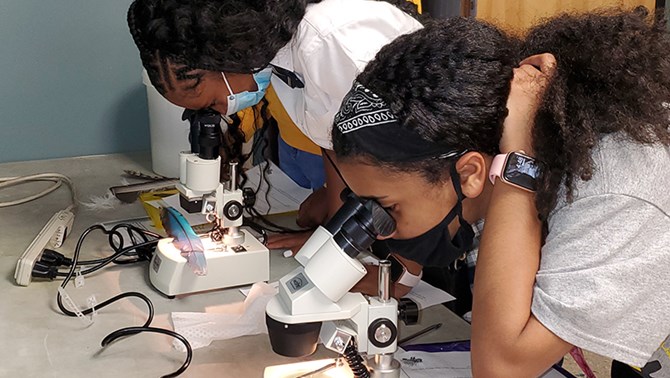 Women in Natural Sciences (WINS) – Module III Program
WINS focuses on girls of color from financially challenged households headed by single parents, grandparents, or non-parent guardians. By providing science-based academic and social-emotional instruction, support and mentorship to high school girls in Philadelphia, this program empowers them to pursue STEM education, activities and careers. The WINS program will be expanded to support the success of alumnae as they navigate their first two years of college. The goal is to improve their educational experience, increase their resilience in a new environment and better equip them to pursue STEM careers upon graduation.
Back to top
Trustees of the University of Pennsylvania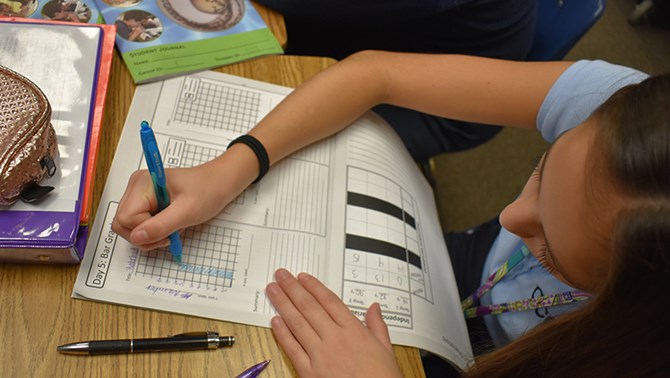 Project BioEYES
Through Project BioEYES, more than 5,000 Philadelphia students every year discover the thrill of scientific discovery through hands-on life science experiments right in their classrooms. The program focuses on increasing minority representation and shaping future scientists and doctors by educating these young citizens to think critically and scientifically. Teachers and university outreach coordinators collaborate on a week-long science project that brings live zebrafish into the classroom offering exemplary science curriculum in cell biology, genetics and the scientific method.
Back to top
University City Science Center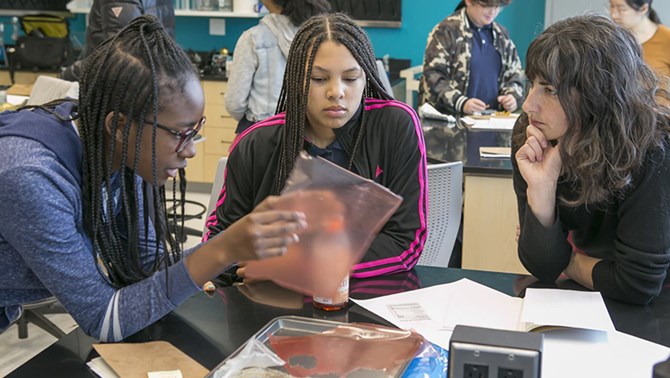 FirstHand Program
FirstHand connects middle and high school students of color from communities surrounding the Science Center's West Philadelphia neighborhood to the resources of the Science Center ecosystem. The program supplements traditional classroom instruction with hands-on, mentored outside-of-school-time experiences. STEM professionals guide students through lab experiments, peer collaborations and pitching ideas to mock investors. FirstHand is unique due to its direct partnerships with under-resourced Philadelphia schools, its focus on industry-informed curricula aligned with the needs of STEM companies, and creative hands-on learning in a high-tech lab space. These experiences are integral to the impact of the program and to introducing students to STEM careers as viable and meaningful careers.
Back to top
YMIC Foundation, Inc.

Pre-College/Pre-Apprenticeship Program
Young Men and Women in Charge leverages academic tutoring, mentoring and financial assistance programs to empower and prepare economically disadvantaged and historically under-represented youth to excel and become leaders in STEM fields. Students are provided with the tools and skills they need to become successful. YMWIC has expanded their operations to serve students in two North Philadelphia communities. YMWIC's programming meets the participants where they are and provides a wraparound approach to ensure all scholars are successful. The potential of college, scholarships and viable employment reinforce a sense of family partnership and investment in success for the scholar and their families.
Back to top
Meet our 2020 GSK STEM Equity Grant recipients:
Fund for the School District of Philadelphia
STEM Resources for K-12: STEM Virtual Labs & STEM Mini-Grants
Due to the ongoing the COVID-19 pandemic, School District of Philadelphia students are receiving virtual instruction in all subjects, including science. To provide teachers and students the opportunity to engage in science investigation and experiments while in a virtual setting, this grant will support a district-wide virtual laboratory software. These curricular enhancements will help teachers and students to engage more deeply in their science content during the pandemic and beyond, unhampered by inequity in science lab spaces or equipment. STEM mini-grants will also be offered to teachers so that they can develop new project-based learning experiences in STEM for students that will be tailored to their local community and interests, when they return to in-person instruction.
Increasing Equity in Philadelphia STEM Instruction
This multi-year GSK investment will support 100 middle school math and science teachers to implement new curricula that aim to increase participation, engagement and success for students underrepresented in STEM careers, including girls and Black and Latinx students. Funding will support training, materials and ongoing coaching to teachers, and positively impact the success of 32,000 students across the School District of Philadelphia.
Learn more about the Fund for the School District of Philadelphia.
Back to top
College of Physicians of Philadelphia – STEM Internship Program
This innovative summer and academic-year internship program for 22 high school students, recruited city-wide, links STEM learning with social-justice issues.
These students, many of whom have been directly affected by violence, are able to explore the impact of violence through STEM disciplines like public health and forensics while making a difference in their own community. The program aims to help them form peer and mentor relationships, graduate on-time, apply to college, and pursue STEM majors and careers. Learn about this program.
Back to top
Philadelphia Robotics Coalition
The Philadelphia Robotics Coalition supports robotics programming for Philadelphia public school students.
The "hands-on, minds-on" STEM challenges that students face in robotics programs assist them in building critical thinking, problem solving and communications skills. Their experience working together with a team also helps them to learn essential skills like cooperation and dependability. Providing Philadelphia students with the opportunity to engage in robotics builds important skills and experiences to increase their interest and success in STEM courses and future careers. Learn about the Philadelphia Robotics Coalition.
Back to top
Wistar Institute – Accelerated Biomedical Technician Training Program
For the past 20 years, The Wistar Institute has provided two summers of paid, hands-on biomedical research training for students from the Community College of Philadelphia (CCP), opening doors to careers in the life sciences for diverse students for whom these opportunities have been limited.
In response to the COVID-19 pandemic and the need to postpone this important program in 2020, Wistar will pilot a new accelerated training program in Summer 2021. This investment will support 15 technician trainees from CCP to engage in hands-on research and prepare for biomedical careers or continue their education, expanding a diverse and highly-skilled workforce for life sciences in Philadelphia. Learn about the Wistar Institute – Accelerated Biomedical Technician Training (BTT) Program.
Back to top
Pennsylvania Society of Biomedical Research – Science Program and Research Coach
PSBR will deliver hands-on science instruction through their SPARC van to students across Philadelphia.
Informed by real-world biomedical industry partners, PSBR will utilize its science programs to "SPARC" underrepresented students' interest in the biomedical field and inspire them to pursue STEM education and career pathways. They will utilize their mobile program to bring curriculum-enhancing biomedical science lessons directly to students in both in-school and out-of-school time settings and will provide professional development to participating teachers and instructors. Learn more about PSBR.
Back to top