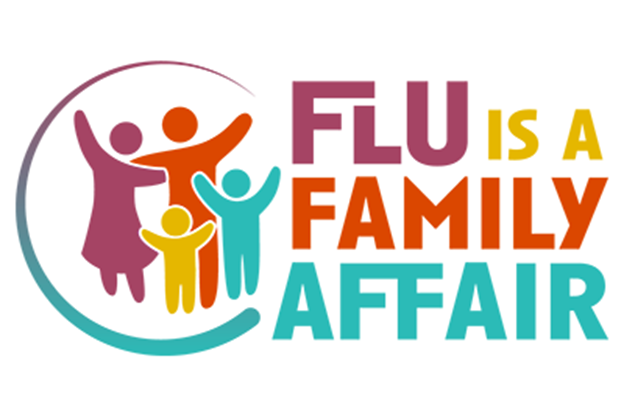 Flu is a Family Affair is a campaign created by GSK that aims to empower the health decision-makers of their families to encourage their loved ones to get an annual flu vaccination and help minimize their risk of getting the flu or having serious illness and hospitalization from the flu.
If you're the "Chief Health Officer" of your family, this message is for you.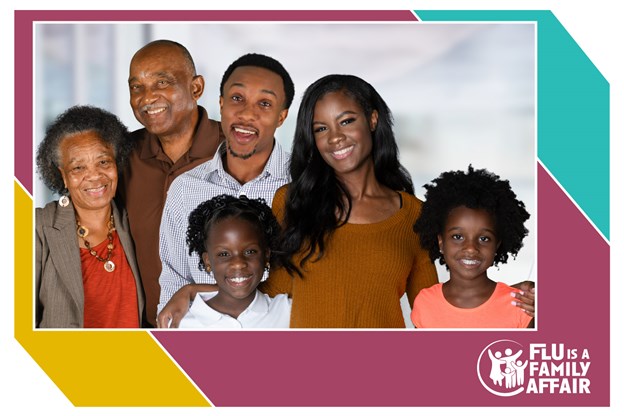 When working together to make health decisions for your family, it's important to be proactive about flu vaccination for everyone - young and old.
Keep scrolling for facts, stats and content from our campaign partners on Instagram.
Help Educate Your Family with Flu Facts and Stats
Learn more, understand the facts and have the right tools to feel empowered when talking to your family about the flu to help encourage vaccination.
Did you know?
The CDC estimates that flu vaccination during the 2019 - 2020 flu season helped prevent an estimated 7.5 million illnesses, 3.7 million medical visits and 105,000 flu-related hospitalizations.1
Don't wait for a reminder; talk to your or your family's doctor or pharmacist about getting vaccinated.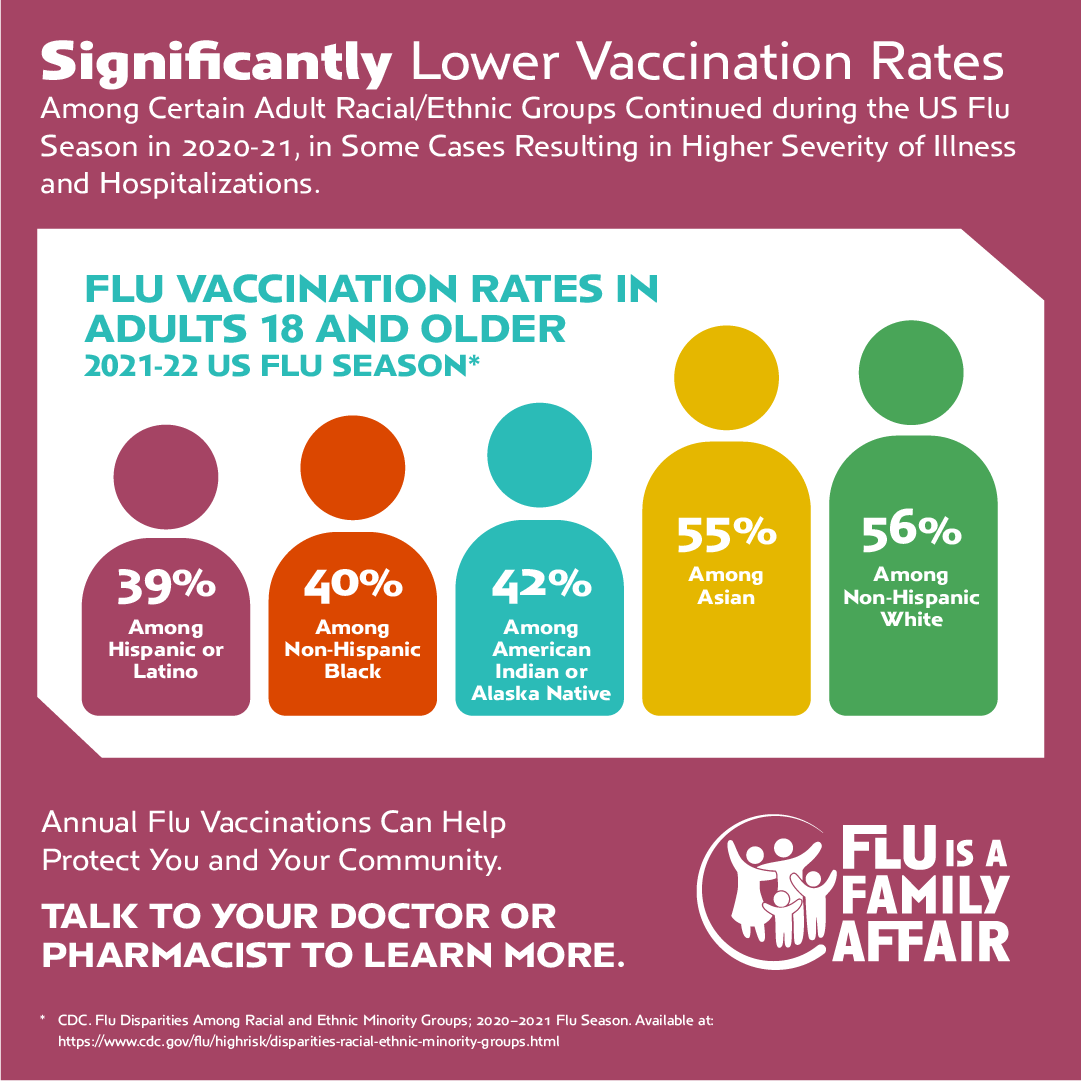 Always talk to your doctor or pharmacist about specific needs for you and your family.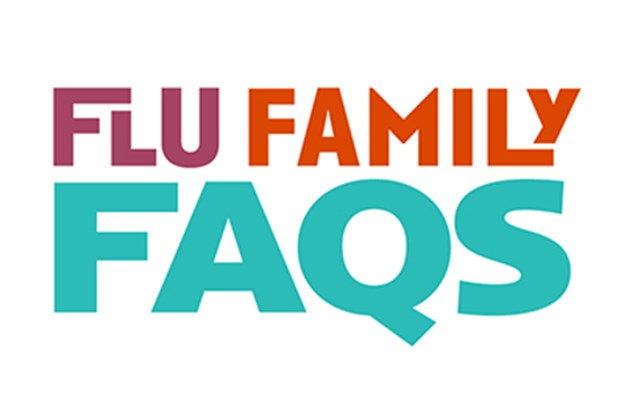 What do I need to know about the Flu?
Flu is a contagious respiratory illness caused by influenza viruses that can cause mild to severe illness and can sometimes lead to hospitalization and even death. It can be spread easily through coughing, sneezing and respiratory secretions.3
Flu is different from the common cold and stomach virus. It may impact each person differently, but symptoms usually have a sudden onset and typically include fever, cough, sore throat, runny or stuffy nose, muscle or body aches, headaches and fatigue.3
When is "Flu Season" and When Should I Get Vaccinated?
"Flu Season" is the time of year that flu viruses most commonly circulate in the population. Flu most commonly peaks in February but significant activity can continue into May.
Ideally, everyone should be vaccinated by the end of October. If a person is unable to get vaccinated until November or later, vaccination is still recommended.4
If My Family is Otherwise Healthy, Does Everyone Still Need to be Vaccinated?
Anyone can get the flu and have serious disease, no matter their age or health status. The best defense is vaccination. It's especially important if you or your family are around people over 65 years, pregnant women, young children and those with certain chronic health conditions such as asthma, diabetes or heart disease.3
When Should My Children Get Vaccinated?
Children 6 months and older can be vaccinated as soon as the vaccine becomes available.
Early vaccination is recommended since some children may need two doses. For those children it is recommended to get the first dose as soon as the vaccine is available, since the second dose needs to be given at least 4 weeks after the first. 4
If Someone is Pregnant, Should They Get Vaccinated?
Yes, vaccination can help protect against flu during and after pregnancy. Someone who is pregnant may experience changes in the immune system, heart and lungs, making them more prone to serious illness.5
Vaccination can be considered for mothers who are in their third trimester of pregnancy because this can help protect their newborns during the first months of life when they are too young to be vaccinated.4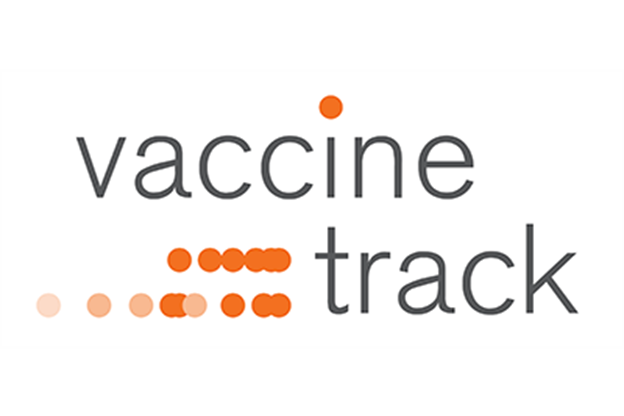 According to GSK and IQVIA's Vaccine Track, adult influenza vaccination rates declined 15% in the 2021-2022 season compared to the 2020-2021 season. This gap was most apparent in October 2021, when nearly three million fewer Americans received flu vaccinations compared with October 2019.6