The facts about Meningitis
Meningococcal meningitis, often called meningitis, is caused by bacteria carried in the nose or back of throat that can spread through coughing and sneezing, saliva, kissing and close contact. [1]
Early symptoms of meningitis may be similar to those of the flu but can progress quickly and can be fatal, sometimes within 24 hours. [1]
Adolescents and young adults have a higher rate of meningitis and are at an increased risk because it can spread through certain common behaviors such as living in close quarters like college dormitories, coughing, sneezing, kissing, and sharing drinks, utensils, or smoking devices. [1]
There are 2 different types of vaccinations needed to help prevent the 5 most vaccine-preventable serogroups of meningococcal disease – one for meningitis groups A, C, W, Y, and one for meningitis group B. [2]
Meningitis is uncommon but can be fatal. Approximately 1 in 10 people infected with meningococcal disease will die. 1 in 5 of meningitis survivors will suffer long-term disability.[3]
Who should get vaccinated against meningitis?
CDC recommends meningitis A, C, W, Y vaccination for adolescents at age 11 or 12 years, with a booster at 16. Teens and young adults aged 16 through 23 years may also be vaccinated against serogroup B, preferably at 16 through 18 years old based on a conversation between a healthcare provider and a patient.5 Meningitis B vaccination has only been available since 2014, and 7 out of 10 17-year-olds had not received at least one dose of meningitis B vaccine as of 2020.4 
Parents should talk to their teen or young adult's healthcare provider about meningitis and the two different types of vaccinations available that can help protect against the five vaccine-preventable groups of the disease.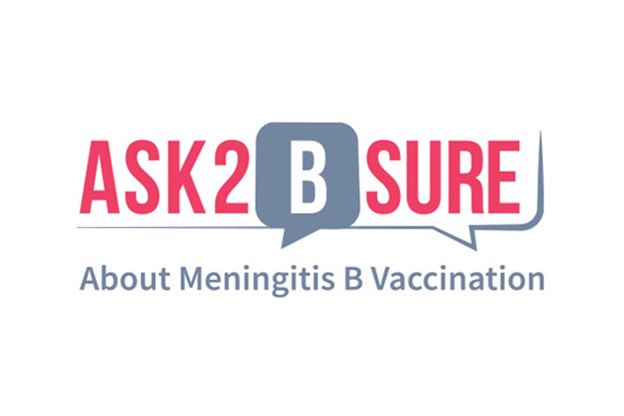 GSK's Ask2BSure campaign was created to educate and empower parents of teens and young adults to start the vaccination discussion with their child's doctors and to "ask to be sure" about meningitis B vaccination. The initiative shares key facts, conversation starters and personal stories to bring awareness to the disease and what parents can do to help protect their children.
Learn more about the meningitis from our public health partners:
Disclaimer: External sites linked are not endorsed by GSK. We are not responsible for information that is provided on these sites.