For most of his life, DeWayne Lanier lived, breathed and ate football. You may think he had no choice given that his father played in the NFL for 14 years, including three Super Bowls. But you'd be wrong.
"My father always encouraged me to be my own person," said DeWayne Lanier, Director, Specialty Strategic Accounts. "But I just loved how fast the game moves, the sound of the pads hitting, the split-second decisions on the field, even the two-a-day practices. You go into battle together. You depend on each other. It's about dedication, teamwork and perseverance because you're not always going to win."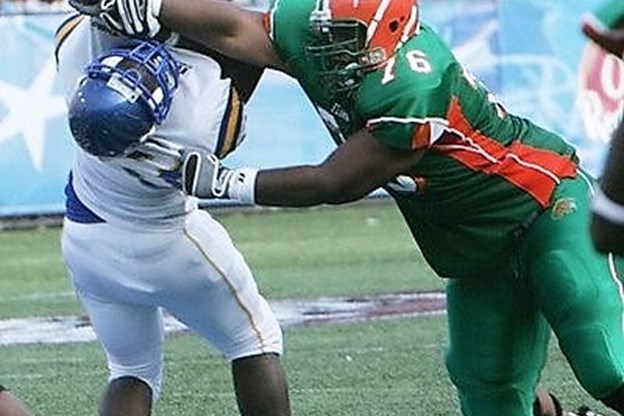 Yes, father and son both played offensive tackle. Yes, they both attended college in Tallahassee, Florida. Yes, they sometimes had the same jersey number. But this is where their paths diverged.
"I was being recruited and remember the advisor saying there were two majors they didn't want the athletes with full scholarships to consider because they were too hard," Lanier said. "Those two were business and pharmacy. I told them if I decide to attend, I'm going into pharmacy."
Never one to shy away from a challenge, Lanier thrived in college both on and off the field. After graduation he became an entrepreneur, developing more than a dozen companies before being recruited once again, this time into the pharma industry.
"I thought I would miss the entrepreneurial side, but I didn't realize I could use my drive and passion to innovate inside a company," Lanier said. "In my role, I'm gathering insights about patients and interacting with healthcare providers and organizations. That feedback is critical to shaping clinical decision for improving patient outcomes.
I've always been passionate about protecting people. For me health equity is where my passion meets professional responsibility. I approach it this way…driving health equity is a journey and health justice is the destination.
The reality is many in this country struggle to get access to the healthcare they need. Lanier is eager to lead another squad into battle. One that can tackle obstacles and step up to the line with solutions.
"We can have more impact by meeting our patients where they are," Lanier said. "Whether it's community partners or raising awareness about clinical trials, health equity is a process, not a department. Patients are people first and we must earn their trust. We're constantly working to level the playing field for everyone to get the treatment they need."
Lanier may have left the gridiron behind but he has a bigger platform now. One that he is determined to leverage to connect underserved communities and the pharmaceutical industry.