Every March, we commemorate Multiple Myeloma Awareness Month in the US. It is an opportunity to reaffirm our commitment to those living with cancer and their loved ones. It is also an opportunity to reflect on what drives our passion for the work we do on behalf of patients.
For Sri – our Vice President and Head of US Commercial Communications –and his family, honoring Multiple Myeloma Awareness Month is especially significant. Sri lost his father-in-law to advanced-stage multiple myeloma in 2020. In a tribute written in observance of Multiple Myeloma Awareness Month, Sri shares how this profound experience has left an indelible impact on his pursuits to make cancer a disease of the past. Read Sri's story.
As though the deadly toll of COVID-19 wasn't enough, in late 2020, my father-in-law battled the advanced stages of multiple myeloma, clinging desperately to life, despite his prognosis.
Week after week, he fought his cancer with valiant courage, hoping that he would emerge victorious from the destructive battle between white and red blood cells seeking to dominate his bone marrow. Toward the end, his blood pressure waned, the fever spiked, and the only resolve for progress was rest and creed.
Despite the prayers and good wishes of his loving and supportive network, he met his maker on Dec. 28, 2020.
It was a somber day indeed because we knew many would miss him immensely. My father-in-law was a kind and ethical man, avuncular in disposition and erudite in mind. A steadfast gentleman of conviction and worldly, eclectic experiences, he lived a life guided by good habits, humor, determination, and humility.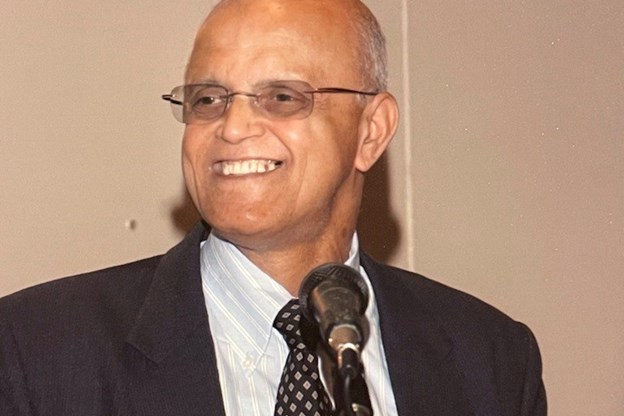 The American Cancer Society estimates that in the United States, about 34,470 new cases of multiple myeloma will be diagnosed (19,100 in men and 15,370 in women) in 2022. [i] Sadly, about 12,640 deaths are expected to occur (7,090 in men and 5,550 in women).
In March, we commemorate Multiple Myeloma Awareness Month. I'm proud to say that GSK is committed to finding innovative treatments and providing resources and education for those impacted by multiple myeloma and their loved ones.
I've seen firsthand the steely focus my colleagues have in working together to get treatments to the patients who so desperately need them. Their common purpose to partner with patients to deliver transformative medicines for rare and difficult-to-treat cancers that maximize survival and quality of life shared by all inspires me daily. 
I am moved by the passion, purpose, and poignancy of the collective desire shared by my colleagues to alleviate human suffering with meaningful medicines. And we must continue to heed this call to action to never lose sight of the person affected and how it impacts those who love or care for them.
References
i American Cancer Society Cancer Statistics Center. Myeloma. https://cancerstatisticscenter.cancer.org/#!/cancer-site/Myeloma. Accessed February 2022.