An associate scientist at GSK, Nafees has come a long way from humble and incredibly challenging beginnings. Every year the US commemorates Juneteenth, a day that holds special meaning for this quiet young man with an infectious smile.
"Just having a job is a big deal where I come from. In my neighborhood, you dribble a basketball or fiddle with the mic," Nafees says. "We need to tell these stories and these narratives must come from someone who looks like them. But who will be the first to tell these tales?".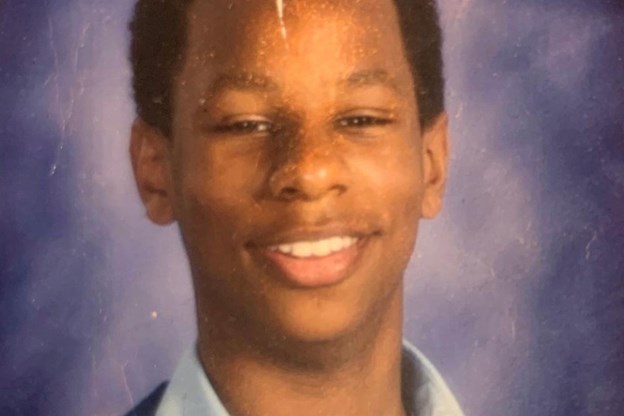 Two decades ago, in a trash strewn, desolate parking lot, 7-year-old Nafees studied the greenery rarely seen in his gritty Philadelphia neighborhood. When he accidentally cut his finger instead of running home, he stared at the blood in fascination.
This was the beginning of his interest in science. But the first steps wouldn't happen just yet. First there were athletics.
After coming in last in his first race, his coach related the story of John Drummond, another Philadelphia native.
"She explained John didn't make his high school or college relay teams," he remembers. "But he made the Olympic relay team and won gold through continued dedication."
That summer Nafees trained harder than ever. A predawn run was followed by the weight training then practice. He earned all-state distinction for both relays and ignited a fierce determination to meet doubt with resiliency.
I didn't fall in love with results, I fell in love with process. If you are just there for wins, once you win, you may lose that fire. I wasn't a gifted athlete, I worked for it and appreciated the success so much more.
Success on the track did not translate into academic success.
"I was terrible in math, really terrible in every subject. The team captain called me and said walk outside, what do you see," he describes. "I described abandoned houses, drug dealers on the corner, garbage everywhere. He asked do you want to stay here? When I answered no, he said let's start working, let's get you out of here."
In his senior year in high school, his efforts paid off. More than a dozen college recruiters called. Then at the state championship, disaster struck. Nafees tore his left hamstring and pulled his right one.
The offers vanished. Because Nafees had cracked down on his academics, he was admitted into his dream school, Hampton University. Nafees and his supportive parents traveled six hours to campus only to discover there was no financial aid. He felt he had lost everything.
What followed were short stints of hourly jobs. In his free time, Nafees found himself at Liberty Place, a dense business complex. Sitting on a bench, he observed this window into another world, this mass of professionals.
"They weren't just talking about work. They described vacations, family updates, goals. They were well rounded," he recounts. "I listened to their vernacular. I was a hood kid with the language that went with it but I thought, I'm going to be one of them someday."
The budding scientist began to flourish. He enrolled in community college where an academic advisor insisted, he was not cut out to study science. In the face of doubt, he resorted to the strategy he'd used in sports. Work relentlessly. Stay focused. Remain motivated.  
Recruited to run track for Neumann College, he earned an academic scholarship. He nearly failed several science classes as he coped with bouts of homelessness and other personal struggles.
If a professor suggested dropping a class, I dug in. I would rather fail than quit. The struggle built my work ethic. Now when I see trouble, I'm not afraid to fail forward.
On a crisp Saturday morning, Nafees happened to meet Dr. Cameron Bardliving, director of Operations at Jefferson Institute for Bioprocessing.
"I had never seen an African American scientist in my life. He looked like me. He was laid back and relatable," he remembers. "I toured his lab and felt like a kid in a candy store."
But doubts crept in, echoes of people who tried to dissuade him from pursuing science and academics.
"I told Dr. Bardliving that I wasn't graduate school material," said Nafees. "He immediately replied, yes you are."
Nafees became the first African American man in North America to enter a bioprocessing program.
"Grad school was uncomfortable in a good way. It taught me more than academics," he reflects. "I improved my critical thinking, collaboration and problem solving."
He was in the first class of African American graduates to receive degrees in biopharmaceutical processing engineering. The small group of four now had a specialized skill in big demand.
Recruited heavily, Nafees chose to build his career at GSK. His days are filled with lab work, sampling, testing, project management to grow and scale cells for patients around the world.
"My job will save lives one day. Everyone is given a mountain to move so you can show others that it can be moved," he said. "Trailblazing is not for the weak but you can rise to the occasion when tested."
It may surprise you to know the young man who longed to leave his hometown still lives in Philadelphia.
"My heart is telling me my work is not done here yet," he states.
How can I be impactful in another community when I'm not first impactful in my own? I know I can't do everything but I will do everything I can.
Nafees appreciates that more companies are joining GSK in recognizing the history of Juneteenth. Our vision of creating an environment rich in diversity allows us to be ambitious for patients, accountable for impact and to always do the right thing. This focus allows us to recruit and retain people like Nafees. His impact is already in the history books and his journey is far from over.
Nafees' impact is already in the history books and his journey is far from over. The Jefferson Institute featured Nafees in a video, watch here.