GSK Science in the Summer
Our 34-year-old free, hands-on summer science program reaches 25,000 students every summer across the US.


Science in the Summer™
A free science education program that helps elementary school children learn to love science.
We want children to discover the wonders of science and consider a career in science one day. That's why we offer GSK Science in the Summer™, a free, inquiry-based science education program that helps elementary school children grow to love science. Through classes held in public libraries and other community-based organizations, the program gets kids excited about learning science with hands-on experiments.
In 2019, more than 25,000 students participated in GSK's Science in the Summer™ program. The program was established in 1986 in Philadelphia, PA, and then offered in the Raleigh-Durham, NC metro area in the summer of 2008. The program expanded nationally in 2017 to an additional 26 sites across the US.
GSK Science in the Summer™ is administered by the Franklin Institute, and the University of North Carolina's Morehead Planetarium and Science Center in cooperation with participating libraries and community centers.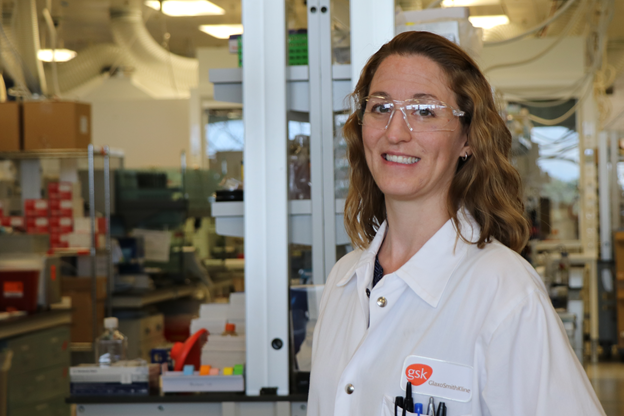 'Be a Chemist!' in Summer 2020
This summer, thousands of students across the country will learn about the chemistry , inviting children to play the role of chemists by practicing real scientific techniques and exploring basic principles of chemistry, including being water chemists who clean a polluted river and being materials chemists who design a new slime toy for its 34th year.
In response to the coronavirus pandemic, this summer the program will be held virtually. Traditionally held at local libraries and community-based organizations, this new online format  ensures that GSK Science in the Summer™ can continue to offer high-quality, interactive STEM learning. With experiments available online, this year even more students entering second through sixth grade can participate at a critical time in their education journey and following the disruption of the 2019-20 academic year.
Families who have not signed up this year can still experience the full virtual program by gathering simple science materials from home, most of which can be found in the kitchen. All activity guides, materials lists, lab notebooks and videos will be freely available at www.scienceinthesummer.fi.edu/phila and https://moreheadplanetarium.org/sis/. 
Through active, hands-on learning, students in second through sixth grades will learned that, through knowledge, education and hard work, that science can be interesting, exciting and challenging, all while they learn the basic STEM skills that will prepare them for academic and professional success.
Visit scienceinthesummer.fi.edu to learn more about all of our GSK Science in the Summer™ sites.
Science in the Summer
When school is out, science is in. GSK Science in the Summer has been inspiring young scientist for more than 30 years.