How we discover new medicines
Creating a new medicine is a long and rigorous process, and it can take up to 15 years to progress from a promising idea in the research laboratory to a medicine receiving approval from regulators. We might investigate 5,000 or more different chemicals to identify just one that can be tested in humans.
We begin the search for a new medicine by looking into what processes in the body lead to a disease or create the symptoms. This starting point is based on both our own research and broader knowledge within the scientific community.
Developing a new treatment typically goes through seven stages from laboratory to patient: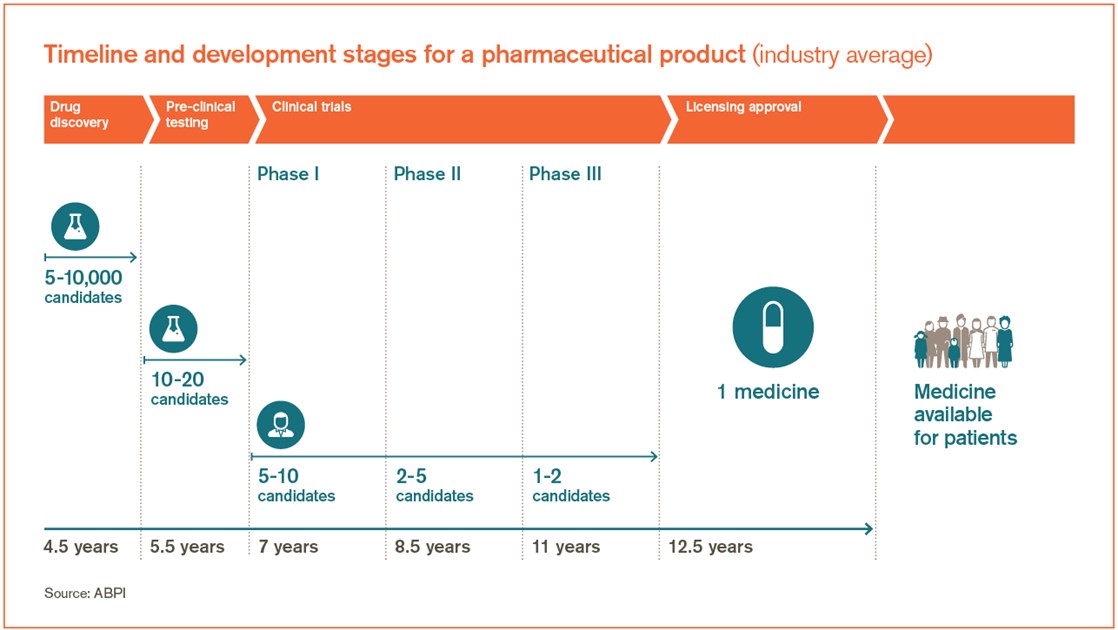 Research – identifying a new approach to treat a disease or condition
We use the growing understanding of biology to identify 'targets'. A target is a structure – like an enzyme – in the body that contributes to the development of a disease or its symptoms. It is important initially to know that the target we select is valid, and that it affects the disease process in the way that the science suggests.
Once a target has been identified, the next step is to find chemicals or natural compounds that might inhibit or enhance the target's activity. Current techniques allow many hundreds of compounds to be screened for that sort of activity very quickly. Compounds that show the sort of effect we want are called 'hits'.
Discovery – developing and investigating compounds that can alter a disease process
Once we have identified our hits, we narrow down the number by further testing, to come up with lead compounds. Our lead compounds may need to be 'improved' - we may modify them using chemistry to enhance different properties. We look for compounds that:
selectively hit the target for the disease processes
can be safely absorbed by the body
reach the appropriate point in the body to find the target
remain in the system long enough to have an effect
can be manufactured to produce a stable preparation convenient to use
have few side effects
Pre-clinical testing – understanding how a compound works in a system and its effects
At this stage our researchers do more detailed investigation of the lead compounds. By testing with living cells, bacteria or tissue cultures in the lab, or in animals, scientists can build an understanding of how the compounds behave.
If the work has been successful, the development team will have identified a compound to consider testing in humans.
Clinical trials – carrying out tests in humans
Before any trial in humans can start, a plan is developed that defines what the trial would involve. The plan will be carefully considered by an ethical review committee of experienced independent medical and scientific practitioners. This committee has the power to approve the proposed plan for the clinical trial and to reject or stop a clinical trial at any time.

Typically, new medicines must go through three phases of human testing before they can be approved for use. To find out more about these critical phases in the development of a new medicine go to our section on clinical trials.

The safety of those who take part in clinical trials is of paramount importance. All our clinical trials follow the guidelines developed by the International Conference on Harmonization (ICH), and the World Medical Association Declaration of Helsinki on the Ethical Principles for Medical Research Involving Human Subjects (2008).


Clinical trials
Find out about our clinical trials process, how we work with doctors and volunteers throughout this process, and how to become a research volunteer.
Read more
Regulatory approval – gaining approval for a new medicine from

government

 

regulators
Once a medicine has successfully completed clinical trials, the information is submitted to government regulators. This is the formal application to seek approval for the new medicine. The process must be followed in every territory in which we hope to offer the new treatment to doctors and patients. In the US, we submit this information to the Food and Drug Administration (FDA).
Based on our research, we suggest to the regulators which patients may find our medicines helpful, but it is the regulators who make the final decisions. Their approval will include details of the diseases or conditions that the medicine has been cleared to treat. Regulators may also require restrictions or warnings to be placed on the use of new medicines.
Only after the regulators have given their approval to a medicine can we make it available to doctors to prescribe to patients.
Supply – manufacturing and shipping the approved medicine so that doctors can prescribe it
The approved new medicine is now manufactured and distributed. Doctors are supplied with the information that will help them in deciding when to prescribe the new treatment. In the US, we manufacture prescription medicines at Zebulon in North Carolina and vaccines in Pennsylvania. 

Monitoring – continuing to gain understanding from the use of new medicines
As new medicines are used more widely, we build a deeper understanding of their effectiveness in different circumstances. This can mean that our appreciation of a medicine changes over time.
Monitoring is overseen by our Global Safety Board (GSB), which is chaired by our Chief Medical Officer and made up of senior physicians and scientists.  To find out more about how we continue to monitor our new medicines once they are in circulation, go to our section on clinical trials in people.