We strive to create a community for students to connect with each other and business representatives while working on assignment at GSK. The intern and co-op program offers learning and networking options in an enriched work environment, enhancing the student experience during their tenure.
GSK interns and co-ops are given the opportunity to develop and apply skills learned in the classroom, in a real world environment. Students are exposed to state-of-the-art facilities on the cutting edge of healthcare.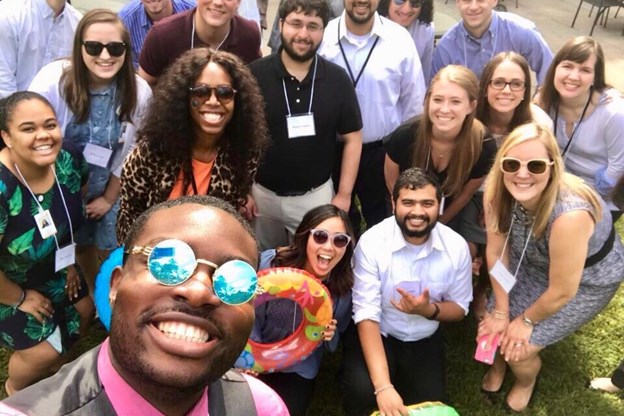 Interns and co-ops are invited to summer receptions hosted at the GSK Philadelphia Navy Yard and Research Triangle Park work locations. The intern and co-op reception is an excellent opportunity for students to network with each other and GSK business leaders.
Interns and co-ops are able to connect with each other at GSK onsite events such as networking luncheons, site tours, and poster sessions.  Student ambassadors located at work sites keep the interns and co-ops informed and engaged through internal newsletters, luncheons, and offsite events such as dinners and local events.
GSK is committed to building a healthy environment, inspiring students to perform at their best. Online webinars on topics related to strengthening workplace skills, healthy living and work/life balance are offered to interns and co-ops. A trial fitness class for interns and co-ops, hosted by an onsite Fitness Manager, is offered at certain times during the year at specific GSK locations.
Through a ten-part, live webinar series featuring the GSK Future Leaders Program, interns and co-ops can learn about full-time rotational opportunities offered to graduating students. The Future Leaders Program offers a rich variety of training, development and mentoring to elevate the careers of students. These webinars are hosted during the summer months.
Learn more about Future Leaders