This year, GSK teamed up with health advocate Earvin "Magic" Johnson to help spark important conversations about RSV — or respiratory syncytial virus — through a health education campaign: Sideline RSV. With RSV Awareness Month in full swing, we took that conversation to center court in local communities across the U.S. with GSK's "Sideline RSV Community Conversations."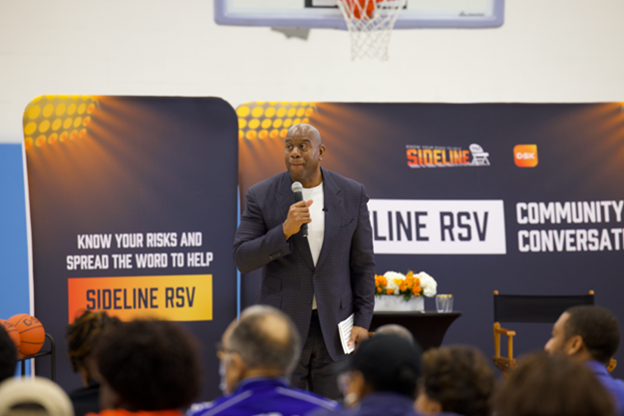 As part of this event series, Mr. Johnson, healthcare professionals, and patient advocates spoke to community members and public health partners at local YMCAs in New York City, Phoenix, Chicago, and Los Angeles to help educate and raise awareness about the risks of RSV infection for people 60 years of age and older.
RSV is a common, contagious respiratory virus that usually causes mild symptoms. But it's important that older adults, including those with underlying chronic heart or lung disease, understand that they may be at a high risk for severe RSV infection. In fact, as Dr. Len Friedland, VP and Director, Scientific Affairs and Public Health, Vaccines at GSK, shared with the community, "Each year, in the United States, 177,000 adults over the age of 65 are hospitalized due to RSV. Of those people, 14,000 adults over the age of 65 will die from RSV."
This event series highlights GSK's commitment to community health and the value of reaching older adults where they are at with important health information, with the help of trusted messengers, like Mr. Johnson, who shared with the community, "Early detection saved my life 32 years ago and so I've spent more than 30 years making it my mission to empower others to be proactive about their health. That's why I teamed up with GSK on Sideline RSV to bring the RSV conversation to the forefront and inspire people to understand their risks to help sideline RSV."
Whether Dr. Len and Mr. Johnson are dishing RSV facts on the basketball court, or sitting down in local communities with leaders, they shared the important reminder for those 60 years of age or older to speak with their healthcare provider about RSV and vaccination. Mr. Johnson stressed that, "We're not here to tell you what to do. But we are here to give you information and then you can talk to your doctor about it."
If you or a loved one are 60 years of age or older, visit SidelineRSV.com for RSV education and resources, like our "Talk to Your Doctor" conversation guide. As we head into the fall and winter seasons, don't drop the ball when it comes to your health — learn more to understand your risks and help Sideline RSV.